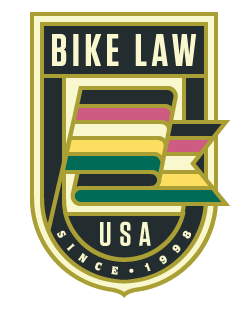 ---
Recent Articles
November 3, 2014
By Bob Mionske Cheryl, a former client of mine, was riding one of her regular routes, one she had ridden probabl...
April 14, 2014
By Bob Mionske Photo: vetta/Getty Images A common misconception about cyclists is that we are in the ...
March 26, 2014
Why do dangerous drivers receive more protection from the law than their victims do? By Bob Mionske When a ...
Welcome to bicycle accident attorney Bob Mionske's website, BicycleLaw.com. Bob Mionske is a former Olympic and professional cyclist, with a law practice that is exclusively focused on representing cyclists who have been injured by motorists, unsafe road conditions, or defective cycling products. Bob is licensed in multiple jurisdictions, and with the assistance of experienced associated local counsel, Bob handles bicycle accident cases in every state. If you have been injured in a bike accident, or by defective bicycle products, and would like to discuss your case with an experienced bicycle accident attorney who "gets" cycling, Bob welcomes your call for a free consultation at his toll-free number 866-VELOLAW (866-835-6529).


In addition to representing injured bicyclists, Bob Mionske offers advice on ths site for cyclists who have been injured by motorists, unsafe road conditions, or defective cycling products, and on what cyclists can do to best protect their rights. You will also find safety advice, links to Bob's publicatios on bicycle law and cyclists' rights, including his Legally Speaking and Road Rights columns, Bicycling & the Law, and other links related to bicycle law.

Bicycling and the Law makes the law both entertaining and understandable and is a definitive resource answering bicycle related legal questions.
Announcements
March 19, 2014
By Bob Mionske When I wrapped up my cycling career in 1994, I knew I wanted to stay involved with cycling in som...
January 28, 2014
Welcome Bob Mionske to the Bike Law team! We (Ann and Peter) are thrilled to welcome Bob Mionske to the Bike Law...
News
September 5, 2014
Chicago Reader: Vigilante cyclists reunite owners with stolen bikes Fed up with bike theft, Chicago cyclists ar...
July 21, 2014
The San Francisco Chronicle: Court rules that even on a bicycle, it's reckless driving Bob Egelko M...
July 20, 2014
The Montreal Gazette: Letter: Cyclists are not a menace on the roads The Montreal Gazette July 20, 2014 Re:...
July 18, 2014
The Times-Picayune: Bicyclists rally to demand safer streets By Jonathan Bullington, NOLA.com | The Times-Picayu...
---